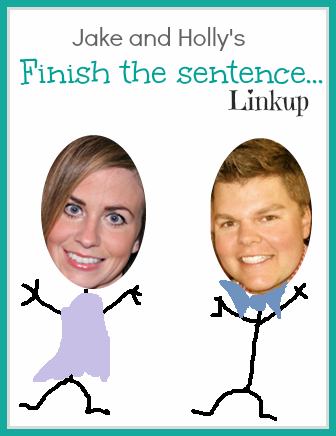 I had high hopes of vlogging this bad boy. But then life happened. And by life, I mean writing the clinical reflection that I had completely forgotten about. Plus my ghetto Walmart teeth whitening strips bleached my gums as well as my teeth... so there's that too.
I'm linking up with the ever-fabulous
Holly
and hilarious
Jake
to do a little sentence-finishing. We all know that the word "penis" will probably be the answer to all of the questions. Because that's what is on my mind quite often.
I mean... can you blame me? It's only been since motherfucking December that I've seen
Bahama Boy
. That's a long ass time without seeing a penis. (No wonder I've been a grumpy bitch lately, huh?)
it's true.
Eight. More. Days. Can you believe it? I am beyond excited, but also ridiculously nervous, as we're doing the whole meet-the-families kind of thing this time around (which is a blog post unto itself).
And as his own form of personal torture, he ordered something (or a lot of somethings) and had it shipped to my house. His explicit instructions: Do not open the box. Do not forget to bring the box to the hotel after I pick him up at the airport.
It arrived yesterday.
Belongs to Pandora.
It's killing me to know what is inside of it. But I guess we'll find out... Just not soon enough.
Any guesses? Anyone? Bueller?
Okay... let's get down to business.
People always tell me... that I'm raw, honest, and batshit crazy.
In the movie based on my life... some folks should be a little nervous as to how they're portrayed. And, it'll probably be rated NC-17.
Typically, I end up regretting... most decisions made in the heat of the moment.
I always ask to leave off the... harsh bedroom lights (thank you, pregnancy stretch marks).
Kim and Kanye really... suck donkey dicks. Next.
My parents always reminded me... to wear my seat belt. Lame, but important.
Every single day I... have a dance party for one in my bathroom. "Collipark Bubba Sparxxx BOOTY BOOTY BOOTY BOOTY ROCKING EVERYWHERE!"
This one time in college... threw a party celebrating the arrival of my period (because that's just what sluts do).
My grossest habit is... pooping while on the phone.
My latest white lie was... "I turned in that clinical reflection a little late because I was having computer issues," and not because I was being distracted by shiny objects on the internet.
I know all the words to... every Spice Girls song.
When I grow up... I want to make out with Katy Perry.
Sexy time is... all I ever think about. Can I get an A-fucking-MEN?
I will never, ever... be dependent upon a man again.
I think it's hilarious... that I played with rubber vaginas all Wednesday afternoon (practicing catheters... what were you thinking, you dirty bitches?)
I've got 8 hours of clinical today and then it's the freaking weekend. My friends and I are showering my (very pregnant) BFF with some baby love Saturday night. When I asked the host if I should pick up a case of beer to bring along with cheesy potatoes the mama-to-be requested I make, the response I received was, "Not unless you want something in particular. We'll have plenty of beer."
Because beer and baby showers go hand-in-hand, right? My kind of party. Cheers, bitches.